FROM some remarkable runway debuts to, in some cases, no runway at all, Lakme Fashion Week (LFW) Winter/Festive 2018 edition's first day set the event on an eclectic, albeit vibrant course. Apart from a host of festive and winter-centric lines, the day also saw presentations where the crucial conversation centred not only on the clothes, but also the craft, structure and identity. Some designers sought to defy conventions by championing the cause of inclusivity, some by experimenting with presentation styles and yet others by completely forgoing the traditional runway format.
Neutral Gear
In what can only be called the day's most radical showcase, Sohaya Misra of Chola presented 'Bye Felicia', her farewell to all things restrictive and irrelevant. Stereotypes bit the dust as clothes blurred set gender guidelines. Edwardian collars, layered skirts, cropped tops, cold shoulders and one-sleeved shirts were donned by both men and women. Mishra's clarion call went beyond the token moustaches on women and male models wearing red lips, as gender fluid models and drag queens added oomph to the presentation. Bending the rules further was an ebullient Prateik Babbar in 'drag', closing the show with make-up artist Jason Arland dressed as his blushing bride. While some may dismiss the presentation as a publicity gimmick, we think Mishra stamped out stereotypes in great style, complimented by Roma Narsinghani's body jewellery.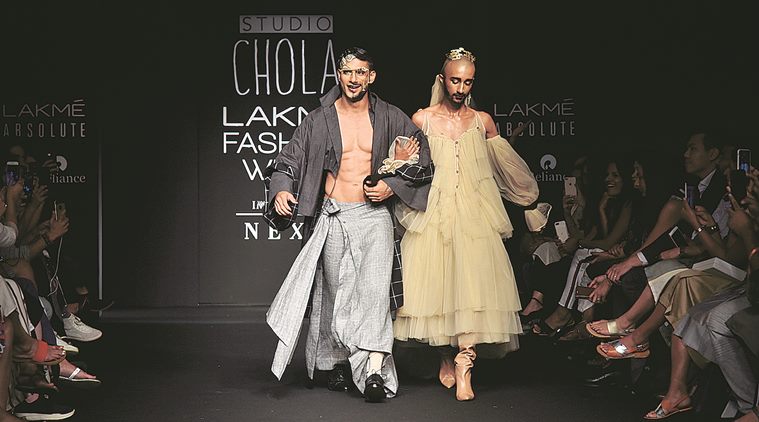 Actor Prateik Babbar walked the ramp for Sohaya Misra's gender fluid collection
Performing Art
Another attempt "to break away, yet embrace the mundane" was made by Ujjawal Dubey of Antar-Agni. Apart from the models displaying clothes from his line 'Begin', performers in all-black — representing the 'back of one's mind' — tailed the models, stood on the sidelines and made erratic movements "to display how the free spirit wants to crazily run in different directions". A blend of deconstructed and structured silhouettes in navy, black and military green met monotone prints and subtle embroideries. The presentation, while interesting, was fast-paced and may have resulted in us missing out on details of the clothes instead. But kudos to the designer for trying something different and thought-provoking.
Golden Hour
Also, markedly different from the norm was Good Earth Sustain's first-ever couture presentation, which was the last show of the day. Presented at the lifestyle studio's sprawling Lower Parel store, 'The Miniaturist' paid homage to the craft of gota. Design doyen Anita Lal played hostess as guests walked through intricately orchestrated tableaus, featuring live models in the tradition of ancient Mughal miniature art. Live music only added to the surreal feeling of being inside an art creation itself, as viewers saw the details of the delicate gota work on the clothes at close quarters. A history lesson in the origin of the craft combined with an immersive experience made this a show to remember, never mind the trampled toes in the ensuing melee.
"widget-articlebox"
For more updates: Like us on Facebook and follow us on Twitter & Instagram