Indian Railways on Tuesday announced a hike in ticket price across its network from 01 January 2020. The increased fare will not be applicable in the suburban train services of the national transporter. The fare hike will be implemented in various categories of the services provided by Indian Railways.
The Railway Ministry issued an order in which it said that while suburban fares remain unchanged, ordinary non-AC, non-suburban fares hiked by 1 paise per km of journey.
The railways also announced a two paise/km hike in fares of mail/express non-AC trains and four paise/km hike in the fares of AC classes.
Railways in a statement has said that in order to expand passenger amenities and facilities at various railway stations and trains, it has become imperative to increase the fare marginally without over burdening any class of passengers.
Fast modernization of Indian Railway will be achieved through this fare revision. Accordingly, Railways has decided to marginally affect an increase in fare only over the non-suburban sections.
Keeping the affordability concerns of daily commuters, there shall be no fare hike for passengers over suburban sections and season ticket holders. This class constitutes 66% of total passenger segment over Indian railways.

Ministry of Railways: There shall be no fare hike for passengers over suburban sections & season ticket holders. Increase in fare per kilometre is 1 paisa for Ordinary non-AC classes, 2 paisa for Mail/Express trains in non-AC classes and 4 paisa in AC classes.
ANI✔@ANI
Ministry of Railways revises the basic passenger fare as per revised passenger fare table published by Indian Railway Conference Association (IRCA), effective from January 1, 2020.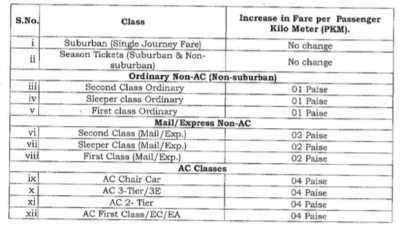 Existing fares of train services like Rajdhani, Shatabdi, Duronto, Vande Bharat, Tejas, Humsafar, Mahamana, Gatimaan, Antyodaya, Garib Rath, Jan Shatabdi, Rajya Rani, Yuva Expresses, Suvidha and special trains on special charges, AC MEMU (non-suburban), AC DEMU (non-suburban) etc shall similarly be revised to the extent of the proposed increase in fares. In the Delhi-Kolkata Rajdhani which covers a distance of 1,447 km, the hike at the rate of 4 paise per km will be around ₹58.
According to the order, there will not be any change in the reservation fee and superfast charge and the hike in fares will not be applicable to tickets already booked.
i. Ordinary Non-AC classes : Fare increase by 01 paisa/km
ii. Mail/Exp Non-AC classes : Fare increase by 02 paisa/km
iii. AC classes- Fare increase by 04 paisa/km
iv. Suburban fare and season tickets: No increase
The last fare revision over Indian Railways was done in 2014-15.