The government has kept small savings interest rate unchanged for October to December 2020 quarter. That means Post Office Schemes will continue to fetch 6.8 per cent per annum for investors. It is a good news for those investors who have zero risk appetite and want guaranteed return on their investment. Post Office Small Savings Schemes are tried and tested and it helps an investor to grow money many-folds in a small time span. National Savings Certificate is one such plan that attracts the majority of the Post Office Small Saving Scheme investors. This investment tool helps investors to start an investment with just Rs 100 and they can still hope to earn a big amount and that too in just five years. Also, if the amount invested is raised, investors can become millionaires without taking any risk at all.
What is National Saving Certificate
Speaking on the National Savings Certificate SEBI registered tax and investment expert Jitendra Solanki said, "National Saving Certificate is one of the small saving schemes offered by the India Post. Since it is a government-backed investment tool, an investors' money here is considered more safe than even in banks. So, investors' money being parked here is free from any risk."
Top benefits of National Savings Certificate
Solanki went on to add that the maturity period of the National Savings Certificate scheme is fixed for 5 years. However, an investor can withdraw money from account after 1 year with certain conditions. The interest rates are set by the government at the beginning of every quarter (3 Months) of the financial year. The tax and investment expert went on to add that one can start investing in National Savings Certificate with Rs 100 only.
National Savings Certificate Calculator
On how one can become a millionaire in just five years through investment in National Savings Certificate, Manikaran Singhal, SEBI registered tax and investment expert, said, "In NSC scheme, one can maximise one's return on lumpsum investment. Using the NSC Calculator, if an investor invests Rs 1 lakh in this India Post scheme, the net return after five years will be Rs 1,38,949."
Singhal went on to add that to become a millionaire one will have to invest at least Rs 7.2 lakh. That's why the National Savings Scheme is considered most suitable for senior citizens as they can fish out the annual interest accrued on their account even after one year.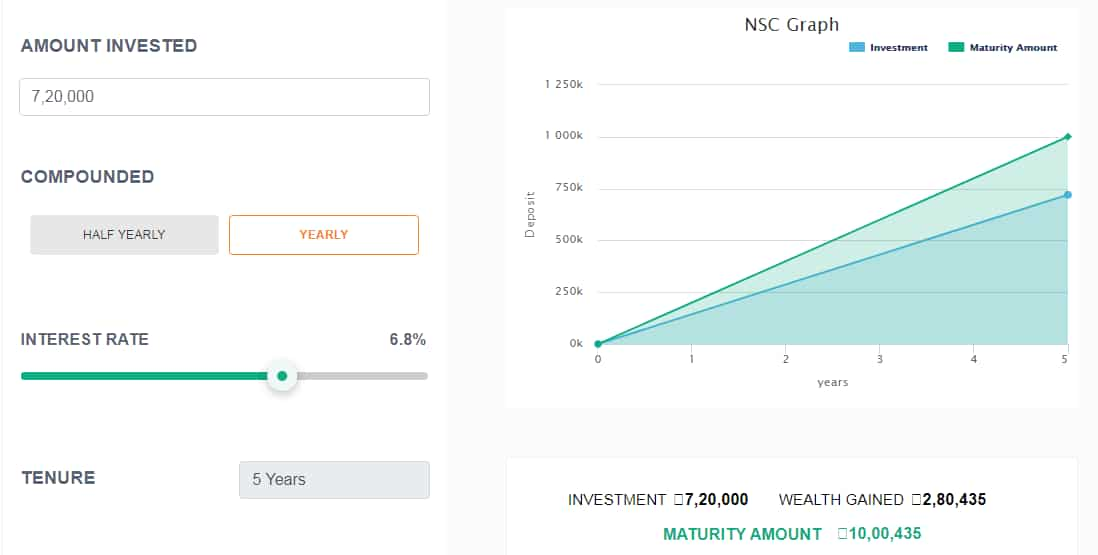 Singhal said that to get Rs 20 lakh as maturity amount from the NSC scheme, one will have to invest around Rs 14.4 lakh.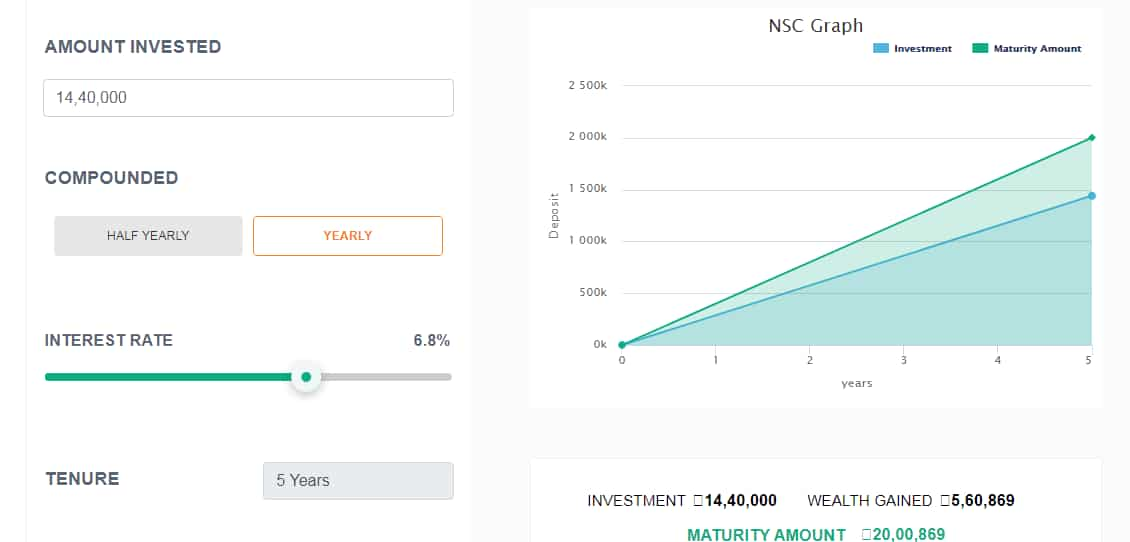 Singhal said that if an investor invests Rs 14.4 lakh in NSC scheme then he will get Rs 1.36 lakh per annum interest that he or she can use for meeting one's financial requirements post-retirement.