The economies of the popular destinations have collapsed since the coronavirus put a stop to foreign arrivals
But reopening too much, too soon would make severe epidemics and sustained economic downturns 'highly likely'
While scores of countries are reintroducing border closures and travel restrictions to mitigate fresh waves of Covid-19, Southeast Asia's two most popular resort islands – Bali and Phuket – are in a race to open to international tourism.
The stakes in terms of potential benefits and risks are high. The economies of both have been on life support since the coronavirus was declared a pandemic a year ago.
In Bali, which attracted 6.3 million foreign visitors in 2019, GDP shrank 9.3 per cent year on year in 2020, while the unemployment rate of 5.6 per cent is nearly four times higher than the previous year. Phuket, which welcomed a whopping 9.9 million foreign visitors in 2019, saw its economy contract 6.1 per cent last year, and 80 per cent of its tourism-related businesses go bust.
As dramatic as these official govern­ment figures may sound, they don't even begin to paint a complete picture of all that has been lost.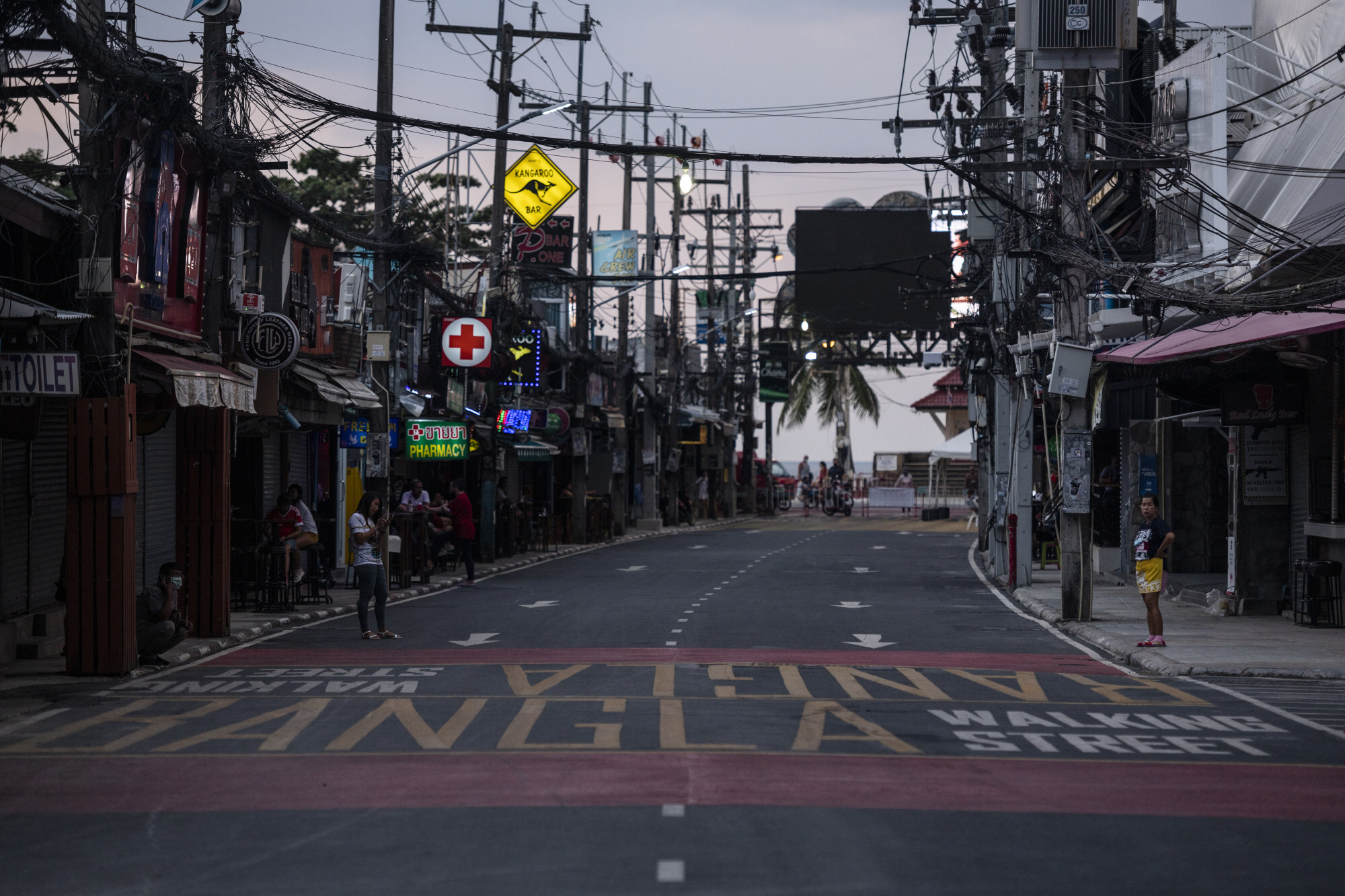 Bangla Walking Street, in Phuket, Thailand, on January 17. Photo: Getty Images
The informal economy in Thailand employs about 63 per cent of the work­force, according to the International Labour Organization. In Indonesia, informal jobs – everything from freelance drivers and tour guides to people working in backyard laundries or selling satay sticks on the side of the road – account for 70 per cent of the workforce. Factor in a couple of dependents for each of the jobless – a wife and baby, a sister at university or a frail grandmother who needs expensive arthritis medicine – and you'll begin to see how dire the situation really is.
In Bali alone, estimates by non-governmental organisations suggest a million people – close to a quarter of the population – are facing a near-impossible task in making ends meet.
Promises by politicians in both countries to provide social security for the un­employed and their dependents have mostly gone unfulfilled or the assistance provided has been too limited and short-lived to help the "Covid poor". Domestic violence, depression, suicide, loan sharking, drug use, gambling and other symptoms of unemployment are all exceeding long-term averages, according to psychologists and news reports, while crime is on the rise.
Police in Phuket arrested 175 individuals in five days in February, while in Bali, expatriates are reporting incidents of bag snatches and home invasions almost hourly, a spate that prompted community website Overheard in Canggu to recently launch an Incidents App to log and map crimes.
Reopening to international tourism is the only feasible fix but it shouldn't come at the expense of new cases of Covid-19. The remedy, as they say, can't be worse than the cure, making the conundrum of rebooting these once-thriving tourism destinations the ultimate Catch-22.
Bali has already learned this lesson the hard way after a surge in domestic tourism – which peaked at 12,000 arrivals a day during the year-end holidays – saw the number of daily confirmed cases of Covid-19 on the island rise from an average of fewer than 100 a day last year to more than 500 a day by mid-January. As the numbers began to climb, the government banned New Year's Eve countdowns and celebrations and introduced an 8pm curfew for non-essential businesses that killed scores more jobs.
The economic recovery in Phuket was also put on hold following a doubling in the cumulative infection rate across Thailand to 12,000 in mid-January. The government blamed the spike not on domestic tourism but illegal migrant workers from neighbouring Myanmar. Yet the effect was much the same: restaurants, retail outlets and hotels that had only recently begun to bounce back from last year's lockdowns were instructed to limit operating hours and visitor numbers. For many business owners in Thailand, it was the straw that broke the camel's back.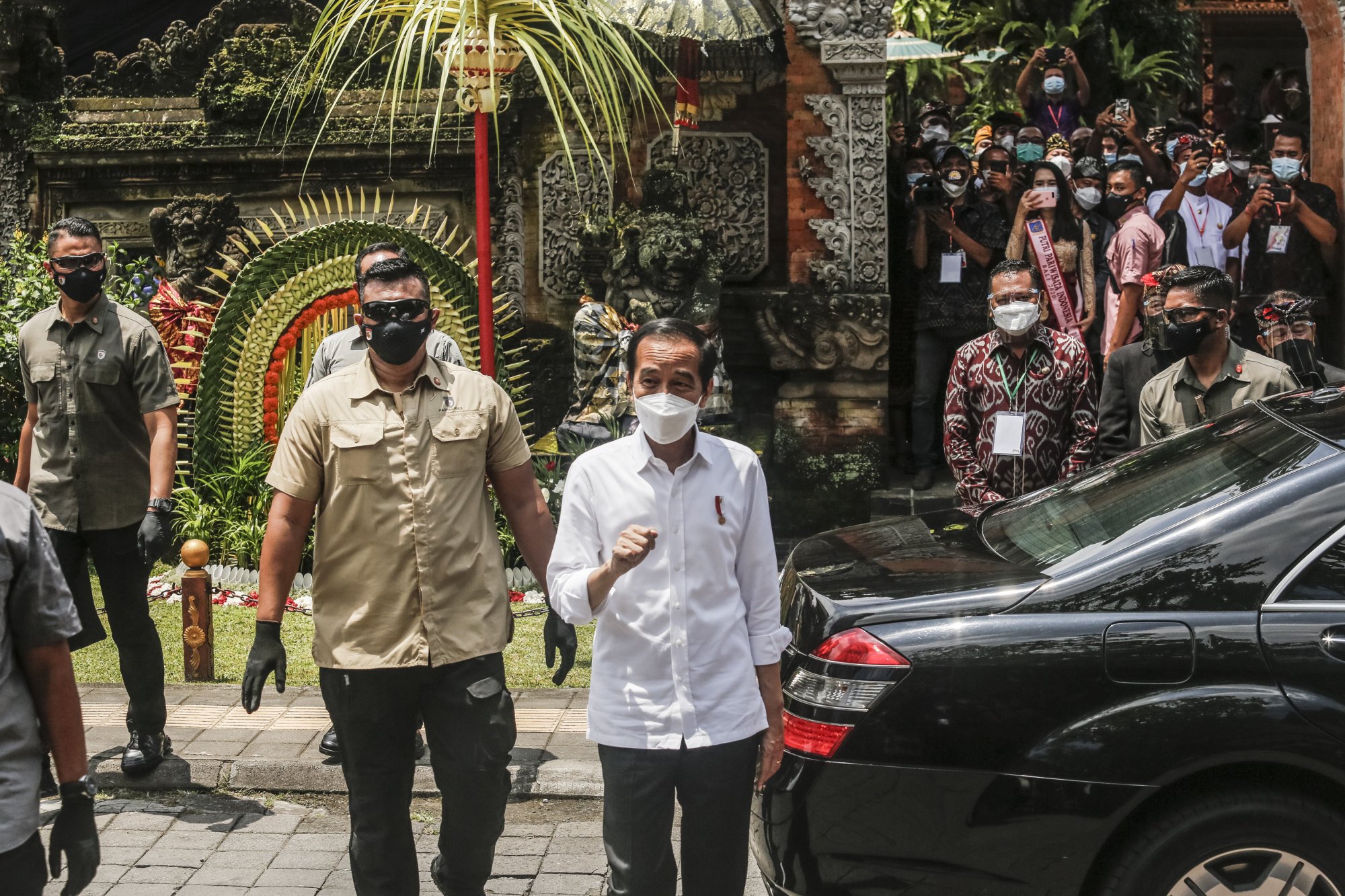 Indonesian President Joko Widodo arrives in Ubud, Bali, on March 16. Photo: Getty ImagesEvery attempt to reopen the islands to international tourism during the pandemic has failed. An initiative in Phuket to lure retirees seeking to escape the European winter is a textbook example. According to the Thailand Longstay Company, the initiative attracted only about 1,000 foreign tourists over three months – less than the number of foreign tourists that used to arrive in Phuket every hour before the pandemic. It turned out that few retirees were willing to spend 14 days in quarantine at expensive hotels on arrival in Phuket and another five to 10 days in quarantine in Europe when they returned home.
Repeated calls by the Balinese government to create travel bubbles, or corridors, allegedly did not even elicit responses from target countries such as Japan, Australia and South Korea. Singapore gave a polite "no", eventually. And why would they respond? These countries had made great sacrifices to mitigate or eliminate Covid-19 while Indonesia has been home to the worst outbreak in the region, recording 1.5 million confirmed cases and more than 40,800 deaths.
But with vaccination programmes being rolled out around the globe, the game has changed and more realistic plans to gradually reopen Phuket and Bali to tourism are gathering steam. The respective authors of these reopening plans are acutely aware of the responsibility that has been placed on their shoulders. And they are undoubtedly watching the opposing camp's every move like hawks.
The first step in these delicate plans is immunising local populations. In Phuket, which has thus far been allocated only 6,000 doses of the Sinovac vaccine for frontline medical workers, local authorities in conjunction with the private sector say they cannot afford to wait for Bangkok's roll-out to be complete. They are planning to buy enough vaccines to immunise 70 per cent of residents so the island can reopen to international tourists on July 1, ahead of the traditional start of the holiday season, on October 1, when the rest of Thailand intends to open.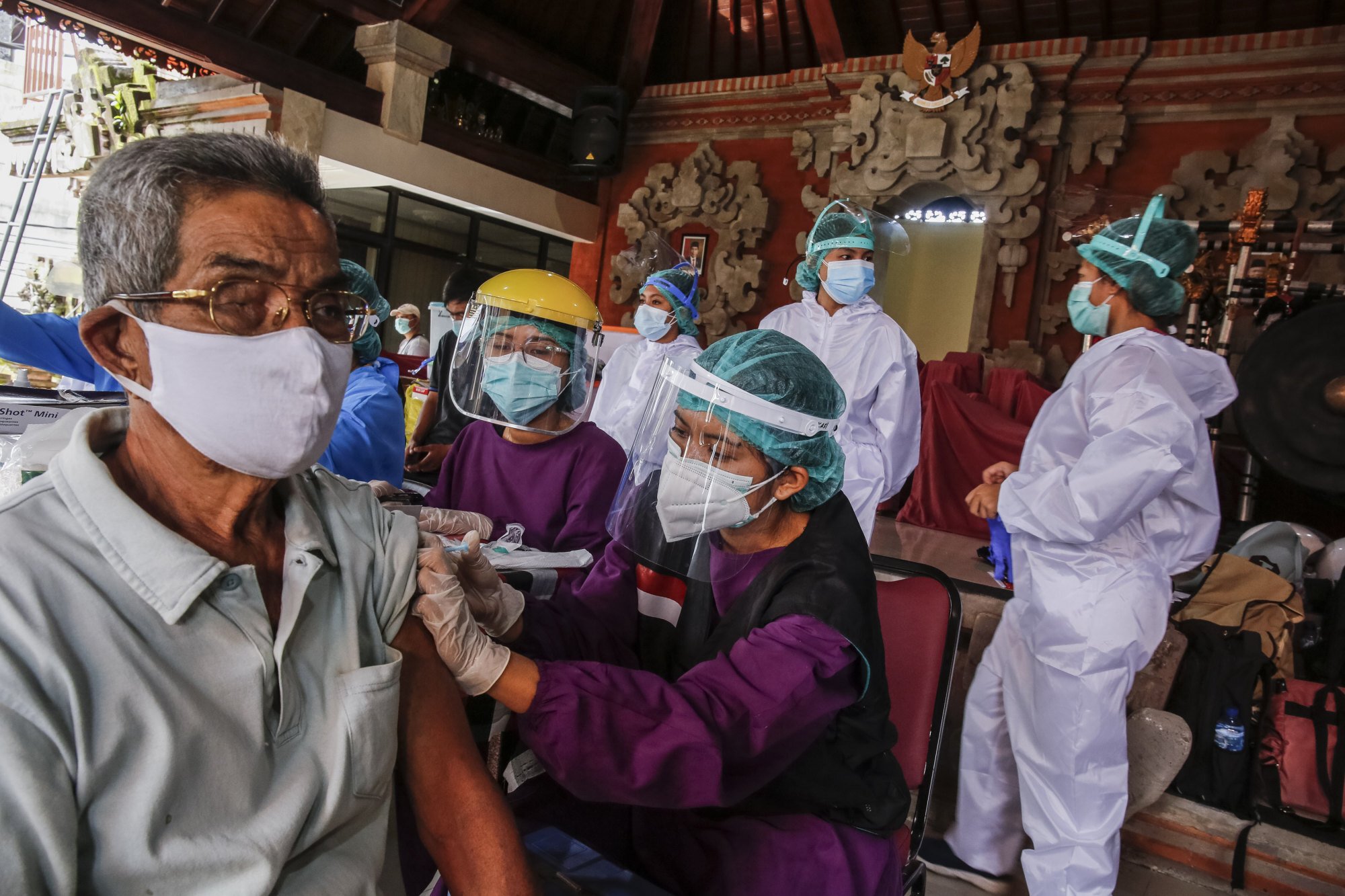 A health worker is vaccinated against Covid-19 in Denpasar, on March 22. Photo: Getty Images
In Indonesia, the government has taken a different and more controversial approach by marrying its vaccination strategy to economic recovery. Tourism workers in Bali have been included in the second stage of a vaccine roll-out that targets 663,000 people across the island. A secondary and even more controversial private vaccination strategy that allows companies to buy doses from vaccine makers overseas with which to immunise their workers will also play a part in an ambitious pilot programme to open the island to foreign tourists as early as June.However, visitors movements will be limited to "green zones": the east coast beach town of Sanur, the luxury-hotel enclave Nusa Dua and Ubud, the spiritual capital of Bali. Test and tracing capabilities will also be ramped up.
"After observing the current situation, I plan to reopen the international bor­ders by June or July 2021," Indonesian President Joko Widodo said during a recent visit to Bali. "It won't be easy, but if all the people are supportive of this programme, it won't be impossible either to bring back tourism in the mid-year."
The second and even more delicate step to kick-start the islands' economies is figuring out how to allow foreigners in without them having to endure deal-breaking quarantines. A survey conducted by the Tourism Authority of Thailand in Stockholm found 62 per cent of travellers surveyed would consider holidaying in Thailand this year if quarantines were lifted.Vaccine passports in conjunction with negative PCR test certificates and in-country tracing systems are key to making this happen. But as it's not even known yet whether vaccinated people can transmit Covid-19, these plans have drawn the ire of contagious-disease experts.
I don't think it will be possible to open in October given the current situation of the epidemic and limited vaccination coverage in ThailandDr Thira Woratanarat, professor at Chulalongkorn University
"If the government insists to stick on opening Phuket without any quarantines in place, I think that it would be highly possible for Thailand to experience severe epidemic within seven to 10 weeks and a sustained economic downturn," says Dr Thira Woratanarat, a professor at the Department of Preventive and Social Medicine at Bangkok's Chulalongkorn University. "I don't think it will be possible to open in October given the current situation of the epidemic and limited vaccination coverage in Thailand."
Dr Dicky Budiman, an epidemiologist who helped formulate Indonesia's pandemic-management strategy for 20 years, says there is no evidence to suggest Bali's green-zone plan will protect locals or tourists from becoming infected with Covid-19.
"The number of people who have died in Bali from the virus has already surpassed 1,000; it's really high, a fatality rate of 2.4 per cent," he says. "This tells me Bali is still missing early detection of the disease and is ineffective at doing testing-tracing-quarantine protocols.
"As we are still unsure how these new protocols will perform, I feel the government is not being realistic with its June target date," Budiman says. "They simply do not have enough knowledge or data to see what the real situation is with Covid-19. Bali still has a long way to go to achieve the World Health Organization's minimum safety rate of 5 per cent or less for positive test results, and they are still a long way from immunising at least 60 per cent of the population. It would have to be done in a month or two to stand a chance to even think about reopening in June."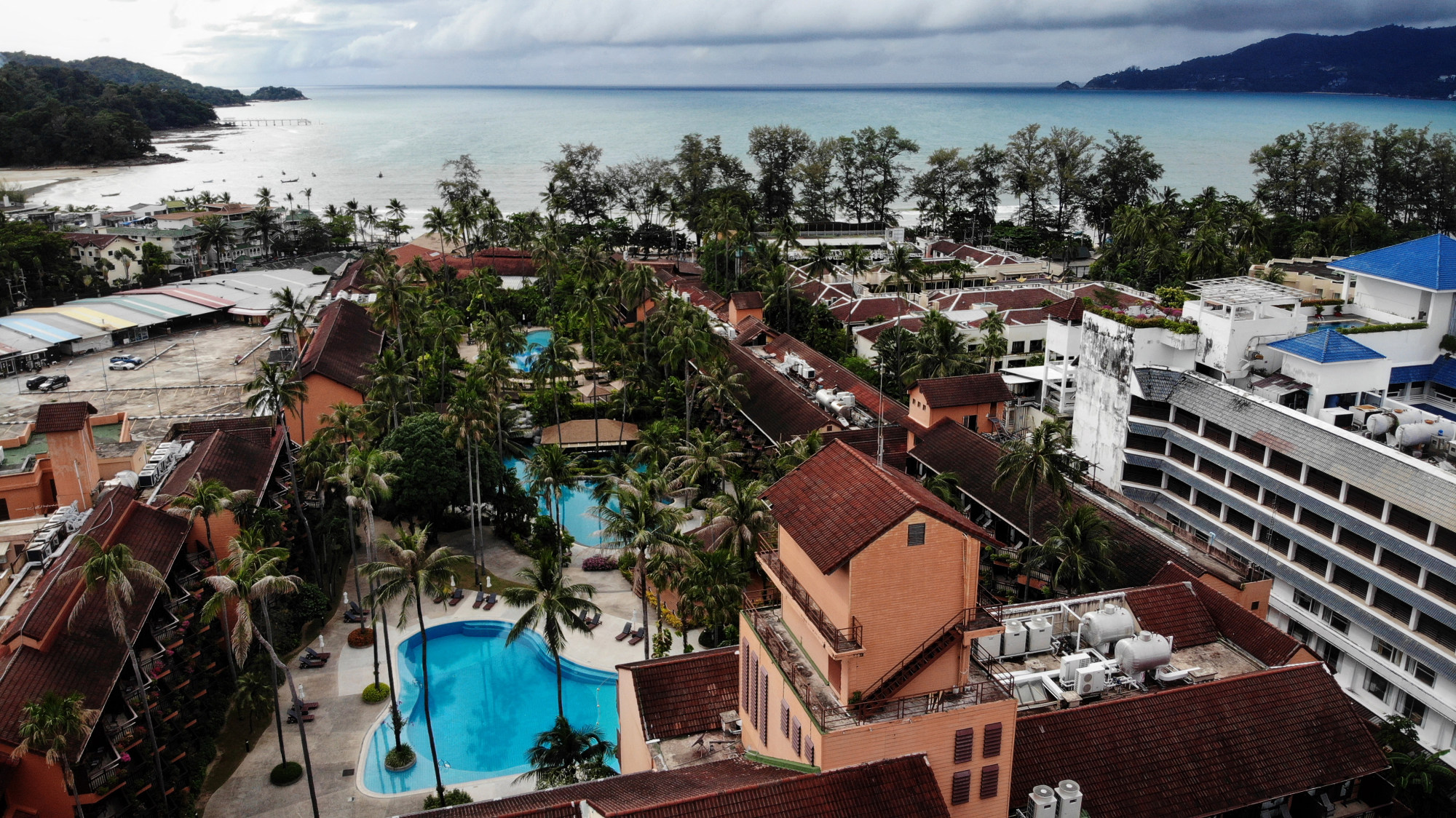 Empty swimming pools at a hotel on Patong beach, in Phuket, last October. Photo: AFP
Until now, Jakarta and Bangkok have followed these experts' opinions, which mirror the recommendations of the wider medical world and the WHO. But the winds are changing. Images of empty beaches, shuttered shop-fronts, empty hotels and restaurants with chairs stacked on tables that have provided endless voyeuristic fodder for media outlets overseas are becoming too much to bear for Bali and Phuket. People are going hungry. Losing their homes. Stealing to survive. Begging on roadsides. Neither Thailand nor Indonesia can afford to leave their borders closed for much longer.
"Hope is on the way," Indonesia's Tourism and Creative Economy Minister Sandiaga Uno said during Widodo's visit to Bali.
For the sake of the elderly and other groups on the islands more vulnerable to losing their lives to Covid-19, here's hoping these tourism reboots don't backfire in spectacular fashion.