GURUGRAM: Four Haryana-NCR districts around Delhi have shown a positivity rate of over 50% and three more over 40% in the first week of May, leading to fears of a surge in cases around the national capital, which is already reeling under the onslaught of the second wave of the pandemic.

The most alarming numbers have come from Nuh (Mewat), the predominantly rural district to Gurugram's south which has the highest positivity rate of 64.7%. It's followed by Sonipat (57.6%), which is Delhi's immediate neighbor, Bhiwani (54.1%) and Panipat (51.5%), Faridabad (44.5%), Rewari (42.6%) and Rohtak (42%).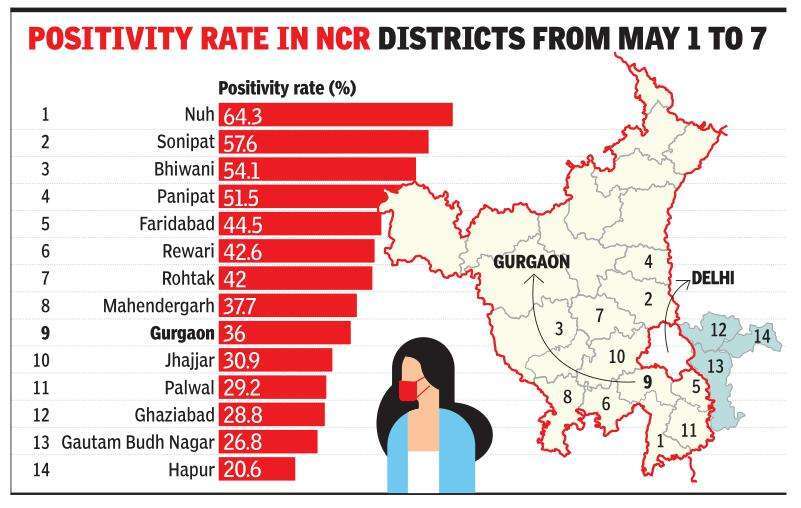 The numbers sent the Haryana government into a huddle on Saturday because the rural belts in Hisar, Rohtak and Bhiwani have also been reporting a spurt in deaths. After a meeting with senior officers chaired by chief minister Manohar Lal Khattar, the government decided to screen all 40 lakh households in more than 7,500 villages.

Khattar directed the health authorities to constitute 8,000 teams — each comprising a health worker, an anganwadi worker and a final-year student MBBS or BAMS student drawn from medical colleges — to scan and test all households. Each team will be allotted 500 households. "We have to protect rural areas from this deadly infection at any cost. Every officer concerned should ensure special vigilance is kept on each village. A massive Covid-19 screening campaign should be conducted in all villages and each person should be scanned in the rural belt," Khattar said.

Testing numbers in many of these districts are extremely low — Nuh, for instance, is averaging around 1,200 tests a day and Panipat around 1,500. Even Faridabad, which is very much part of the Delhi urban grid, is conducting only 3,300 tests on an average daily. The highest number of tests is happening in Gurugram, which is averaging around 12,000 per day and yet continues to show a high positivity rate (36% in the first week of May). Other Haryana districts with positivity rates between 30% and 40% include Mahendergarh, Yamunanagar, Karnal, Jind, Hisar, Ambala, Panchkula, Charkhi Dadri and Jhajjar.

A senior health department official said districts with high positivity rates were given revised testing targets so that infections could be detected early. The official admitted healthcare infrastructure in these areas cannot handle a surge in cases, which is why early detection and isolation needed to begin on a war footing. "The spread has to be checked if we are to stop more deaths," the official said.

Nuh's chief medical officer Surender Yadav had a different explanation for the positivity rate in the district, pointing out that the overall active case numbers were low. Nuh's active cases on Saturday were 723. However, this number has to be seen in the perspective of so few tests being done there. Many people who live in adjoining districts are coming to medical college in Nalhar for testing, which might be the reason for the positivity rate being so high," said Yadav.

The health teams that will fan out into villages have been instructed to put patients into three categories — mild, moderate and serious. Those with mild symptoms will be shifted to isolation homes set up in village dharamshalas and anganwadi centres or schools, while those with moderate symptoms will be put up in community health centres or schools by converting them into makeshift hospitals. Serious patients will be required to be immediately shifted to district hospitals or Covid care centres.

Khattar told officials at the meeting in Chandigarh that a special awareness campaign-cum-counselling of people in villages should be conducted. He asked officers of the health department along with ASHA workers and former and current public representatives to encourage people to get themselves tested at camps that will be set up.

"Strengthening of medical infrastructure along with ramping up Covid management preparations coupled with aggressive surveillance, stringent containment and focused clinical management should also be done in every village on a priority basis," Khattar said. He directed panchayat development officers to ensure logistics support to screening teams on their travel and stay.